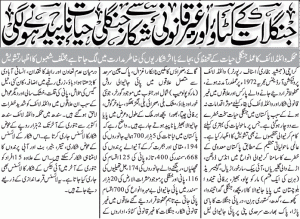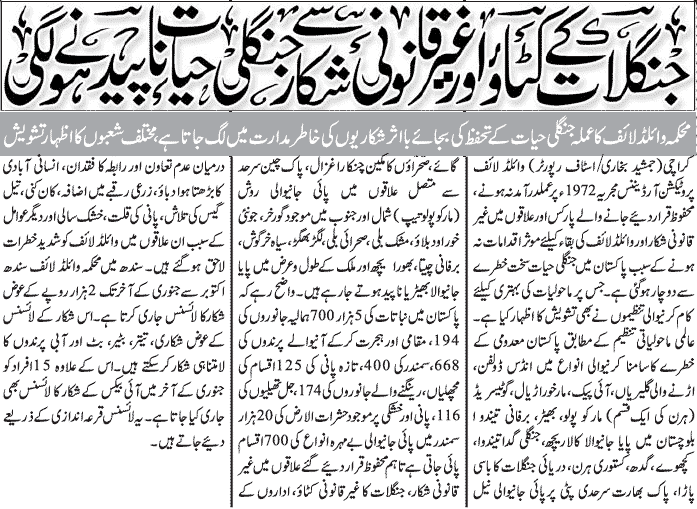 http://e.jang.com.pk/11-25-2012/karachi/pic.asp?picname=2411.gif
With reference to my latest publication on Jang news (Urdu Language); dated November 25, 2012 with regards to illegal deforestation, greater impact on biodiversity, illegal hunting of endangered species & on climate change.
Implementation on Wild life Ordinance act 1972 is no longer applied in Pakistan, it is a disaster for forestry due to illegal hunting of species, It is a great danger for wild life in Pakistan.
Ministry of environment and Forestry excuse and express their emotions. According to International environmental Organization, Pakistan is facing great danger to lose wild life animals species in which Indus Dolphin, eye pick, Marco Polo, Tiger, Bear in Baluchistan, turtle, Deer, Alpine ibex, buffalo, on the edge of border of Pakistan and India another species called Nelgai, It is one of the most commonly seen wild animals of northern India and eastern Pakistan. The mature males appear ox-like and are also known as Blue bulls. The Nilgai is the biggest Asian Antelope. Another Species exist on the border of Pakistan & China, Gazelle, it is any of many antelope species in the genus Gazella. In Pakistan we have numerous zoological species in which five thousand species exist in Himalaya alone, one hundred and ninety four residential species, and six hundred and sixty eight emigrational species , four hundred in Ocean, one hundred and twenty five in lake those kind of species, there are alone Seven Hundred numerous kinds species exist in Sea Wild life, the life of all mentioned species are considered safe in Pakistan and yet we have struggling to hold on. Deforestation of areas and illegal hunting of endangered species that live, Correspondence between organizations, Managing Information, Human Expansion and Enhancement, Enhancement & Expanding of Agriculture, Exploration of Oil & Gas, and Water existence, those areas are totally disastrous of Wild life. there has a greater impact on biodiversity than climate change, degradation of coral reefs, according to a researcher. In Sindh, the Organization of Wild life is permitting the License for hunting the animal upon two thousand Rupees. The holder of that license are allowed to hunt down Breeders, Quails & Francolin. At the End of the January more than fifteen people allowed for the hunt of Alpine Ibex. The license issued as per random selection.