Teaching disaster resilience in schools is critical for empowering school children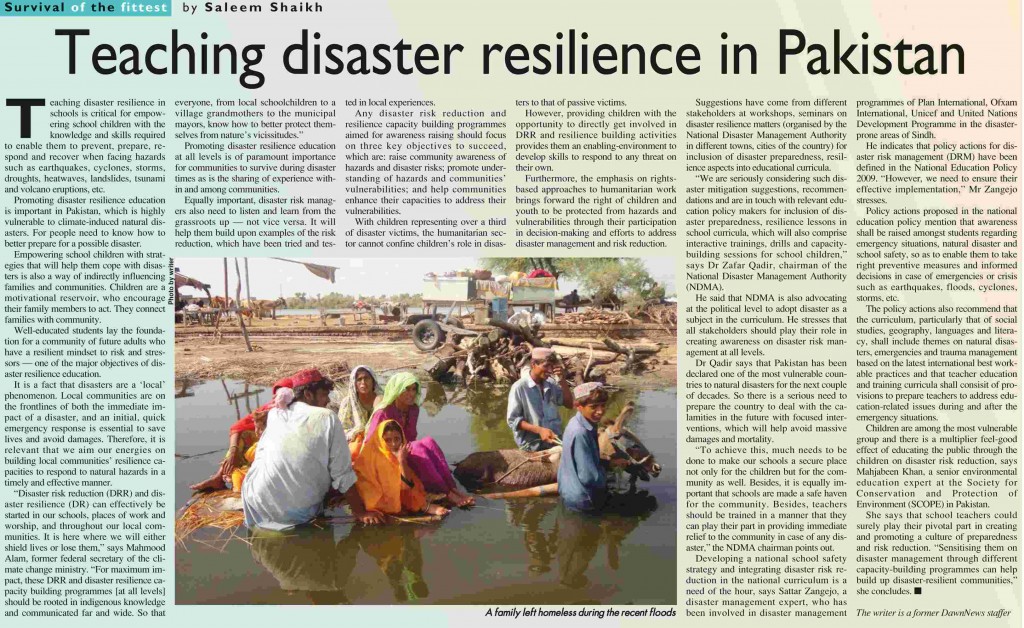 with the knowledge and skills required to enable them to prevent, prepare, respond and recover when facing hazards such as earthquakes, cyclones, storms, droughts, heatwaves, landslides, tsunami and volcano eruptions, etc.
Promoting disaster resilience education is important in Pakistan, which is highly vulnerable to climate-induced natural disasters. For people need to know how to better prepare for a possible disaster.
Empowering school children with strategies that will help them cope with disasters is also a way of indirectly influencing families and communities. Children are a motivational reservoir, who encourage their family members to act. They connect families with community.
Well-educated students lay the foundation for a community of future adults who have a resilient mindset to risk and stressors — one of the major objectives of disaster resilience education.
It is a fact that disasters are a 'local' phenomenon. Local communities are on the frontlines of both the immediate impact of a disaster, and an initial, quick emergency response is essential to save lives and avoid damages. Therefore, it is relevant that we aim our energies on building local communities' resilience capacities to respond to natural hazards in a timely and effective manner.
"Disaster risk reduction (DRR) and disaster resilience (DR) can effectively be started in our schools, places of work and worship, and throughout our local communities. It is here where we will either shield lives or lose them," says Mahmood Alam, former federal secretary of the climate change ministry. "For maximum impact, these DRR and disaster resilience capacity building programmes [at all levels] should be rooted in indigenous knowledge and communicated far and wide. So that everyone, from local schoolchildren to a village grandmothers to the municipal mayors, know how to better protect themselves from nature's vicissitudes."
Promoting disaster resilience education at all levels is of paramount importance for communities to survive during disaster times as is the sharing of experience within and among communities.
Equally important, disaster risk managers also need to listen and learn from the grassroots up — not vice versa. It will help them build upon examples of the risk reduction, which have been tried and tested in local experiences.
Any disaster risk reduction and resilience capacity building programmes aimed for awareness raising should focus on three key objectives to succeed, which are: raise community awareness of hazards and disaster risks; promote understanding of hazards and communities' vulnerabilities; and help communities enhance their capacities to address their vulnerabilities.
With children representing over a third of disaster victims, the humanitarian sector cannot confine children's role in disasters to that of passive victims.
However, providing children with the opportunity to directly get involved in DRR and resilience building activities provides them an enabling-environment to develop skills to respond to any threat on their own.
Furthermore, the emphasis on rights-based approaches to humanitarian work brings forward the right of children and youth to be protected from hazards and vulnerabilities through their participation in decision-making and efforts to address disaster management and risk reduction.
Suggestions have come from different stakeholders at workshops, seminars on disaster resilience matters (organised by the National Disaster Management Authority in different towns, cities of the country) for inclusion of disaster preparedness, resilience aspects into educational curricula.
"We are seriously considering such disaster mitigation suggestions, recommendations and are in touch with relevant education policy makers for inclusion of disaster preparedness, resilience lessons in school curricula, which will also comprise interactive trainings, drills and capacity-building sessions for school children," says Dr Zafar Qadir, chairman of the National Disaster Management Authority (NDMA).
He said that NDMA is also advocating at the political level to adopt disaster as a subject in the curriculum. He stresses that all stakeholders should play their role in creating awareness on disaster risk management at all levels.
Dr Qadir says that Pakistan has been declared one of the most vulnerable countries to natural disasters for the next couple of decades. So there is a serious need to prepare the country to deal with the calamities in the future with focused interventions, which will help avoid massive damages and mortality.
"To achieve this, much needs to be done to make our schools a secure place not only for the children but for the community as well. Besides, it is equally important that schools are made a safe haven for the community. Besides, teachers should be trained in a manner that they can play their part in providing immediate relief to the community in case of any disaster," the NDMA chairman points out.
Developing a national school safety strategy and integrating disaster risk reduction in the national curriculum is a need of the hour, says Sattar Zangejo, a disaster management expert, who has been involved in disaster management programmes of Plan International, Ofxam International, Unicef and United Nations Development Programme in the disaster-prone areas of Sindh.
He indicates that policy actions for disaster risk management (DRM) have been defined in the National Education Policy 2009. "However, we need to ensure their effective implementation," Mr Zangejo stresses.
Policy actions proposed in the national education policy mention that awareness shall be raised amongst students regarding emergency situations, natural disaster and school safety, so as to enable them to take right preventive measures and informed decisions in case of emergencies or crisis such as earthquakes, floods, cyclones, storms, etc.
The policy actions also recommend that the curriculum, particularly that of social studies, geography, languages and literacy, shall include themes on natural disasters, emergencies and trauma management based on the latest international best workable practices and that teacher education and training curricula shall consisit of provisions to prepare teachers to address education-related issues during and after the emergency situations.
Children are among the most vulnerable group and there is a multiplier feel-good effect of educating the public through the children on disaster risk reduction, says Mahjabeen Khan, a senior environmental education expert at the Society for Conservation and Protection of Environment (SCOPE) in Pakistan.
She says that school teachers could surely play their pivotal part in creating and promoting a culture of preparedness and risk reduction. "Sensitising them on disaster management through different capacity-building programmes can help build up disaster-resilient communities," she concludes.
The writer is a former DawnNews staffer
—–
The feature story was published on 13th January, 2013 in Daily Dawn's Education that appears on every Sunday.
Weblink: http://dawn.com/2013/01/13/survival-of-the-fittest-teaching-disaster-resilience-in-pakistan/