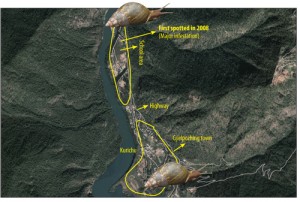 By Passang Norbu
The curse of the giant African land snail descends on Gyalpoizhing
Even as agriculture officials try to contain the widespread infestation of the armyworm in agricultural fields, which is now crawling into office buildings and homes, farmers in Gyalpoizhing, Mongar, are battling another outbreak, that of the disease-carrying giant African land snail (GALS).
In Gyalpoizhing, where daytime summer temperatures can soar to close to 40 degrees, farmers are anxious with their maize and chili crops falling prey to the GALS that emerge from the ground by night.
GALS was first spotted in 2008 near Gyalpoizhing school area, feeding on a wide range of vegetation such as crops, trees and also calcareous substances, such as concrete.  
In recent weeks, the outbreak has prompted an urgent call for officials to tackle the problem, because GALS in abundant vegetation multiply fast, and is known to harbour nematode that cause meningitis, an inflammatory condition that infects the brain and spinal cord.
GALS is listed as one of the top 100 invasive species in the world, which can adapt to wide ranging climatic conditions, from sub-tropic to temperate regions, states a press release from agriculture ministry.
Officials said the snail can grow to 20 cm or more and, in a year, lays around 1,000 to 1,200 eggs, with life expectancy of up to 10 years.
"Although there have been no case of human being infected with meningitis by the snail, scientists say that the snail carry nematode, a kind of parasite called the rat lungworm," an agriculture specialist said.
He added the parasite, if ingested, enters the circulation and travels to the brain, where it then lead to meningitis, symptoms ranging from headaches to tingling, numbness and involuntary flexing of muscle. "That is why we have warned people, especially kids, not to touch the large snails," he said.
Thimphu-based Dr Gem Dorjee said the parasitic nematode that causes rat lungworm could be present in the slime of the snail. "If a person comes in contact with the snail, the parasite can then enter the person's body, eventually making way to the brain," he said.  "The other way would be eating the parasite from the vegetable that was infested by the snail; but if you wash and cook the vegetable properly, then it's safe."
Agriculture officials, who are carrying out a campaign in affected areas to control the GALS population, said strict quarantine is in place, with biological pits being dug at different sites, where the snails are being handpicked, dumped and destroyed.
Mobile collection teams are to be formed soon at relevant places for collection of snails, and surveillance and vigilance team including locals have been formed to monitor snail sightings.
A farmer, who found lots of snails in his maize field, said every time it rains, their numbers multiply.
"The snails eat everything and, more than the crops, we're concerned about our children, who might try to touch it since they're everywhere," he said.
In addition to feeding on plants, the snails are known to munch on house walls and cement, seeking out calcium to strengthen their growing shells.
In the past few weeks, the snails were observed feeding mostly at night on shoots and flower buds, killing the plants just as they are germinating. "Many residents of Gyalpoizhing couldn't cultivate anything in their kitchen gardens and had to buy all vegetables, including chili, from the Sunday market," a resident said, adding that the snail infestation was noticed in the first week of May.  The infestation has spread from the Gyalpoizhing town area up to Kalapang, Limmethang and Thridangbi villages.
Agriculture officials recommend farmers to spray common salt or dump the snail in salt solution, and to properly manage their garbage and surrounding weeds using glyphosate.  Officials further request to report the sighting of GALS to the nearest RNR centre, or call their toll free hotline 140.
http://www.kuenselonline.com/not-the-nice-kind-of-gals/#.UaxlpGQpZCo