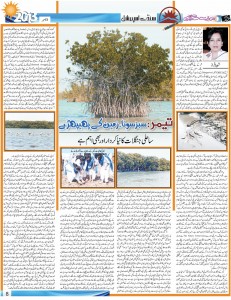 Conservation of Mangroves for climate change mitigation
Mark Spalding, principal investigator on the project and a marine scientist at the US-based worldwide conservation organisation The Nature Conservancy, says: "These results can help guide decisions regarding priority areas for the conservation and rehabilitation of mangroves for climate change mitigation."
International Union of Conservation (IUCN) advisor on coastal ecosystem and famously known as father of mangroves, Tahir Qureshi said, "About 20 years ago, mangroves were at 5,000 hectors in Karachi but now its limited to less than 3500 hectors, Port Qasim, Karachi Harbour, Mai Kullachi, Boat Basin, Kaka Pir, Baba Bhit, Salehabad, Manora, Ibrahim haideri and all other areas at east and west coast of Karachi are witnessing shrinking mangroves deposit and as a result population of birds, fishes on decline while shrimps and lots of other species are alarmingly vanishing" he added.
Beside threats to nature, scientist believe that Sindh coast lies in a dangerous zone where storm surge could be dangerous and Karachi is one of vulnerable city where Industrial effluents, oil spills, municipal waste and land mafia are the real time threats for sea itself.
Worldwide study of mangrove swamps' carbon storage capacity will help scientists identify where efforts should be focused to protect these rich resources for climate change mitigation.