Can we learn from Nepal's early warning system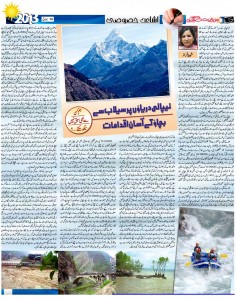 How early warning technology protects Nepali villagers from sudden floods.
 The early warning system gives villagers 5-8 minutes' notice of a flood – just enough time to save themselves.
 Five flood sensors are positioned near the Nepal-China Friendship Bridge, about 6 km upstream from the power station.
 If the water in the river reaches a dangerous level, the sensors activate sirens placed at four locations, including one at the power plant. The sirens warn the communities to flee to higher ground. Residents use their mobile phones to warn other villages further downstream.
 According to authorities, a glacial lake outburst flood takes about five minutes to travel from the Nepal-China Friendship Bridge to the plant and lives can be saved if people respond to the alarm immediately.
 http://e.jang.com.pk/07-14-2013/karachi/mag7.asp 14 July 2013