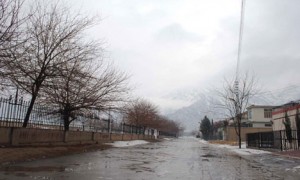 QUETTA – Quetta, capital of Balochistan, Pakistan's largest province, was famous for its chilly weather, natural beauty and lofty mountains covered with blankets of snow.
Situated at an altitude of 5,500 feet (1,675m) above sea level and stretching over an area of 2653- km, Quetta has become a city of more than 2 million. But, very unfortunately, during last five decades Quetta has not only lost its peace but also the cold in summer and chilling winters.
Analysts, besides citing a number of reasons behind variation in climate of Quetta, hold extra-ordinary population growth, heavy traffic bulge, emission of greenhouse gases and rapid chopping off of trees responsible for "climate change".
"One can observe a drastic change not only in the climate of Quetta but also in other parts of Balochistan," says an 80-year old Muhammad Gulzar resident of Quetta, who has witnessed the changing climate living through most part of the climatic changes himself.
He says couple of years back it used to get very cold in Quetta valley but now it appears as if there is little winter despite the fact that December is about to end. "We have witnessed heavy snowfall in Quetta in winters and the mountains around Quetta valley used to be covered with snow," he recalls, adding that owing to heavy snowfall in winters, one could see snow on the peaks of Chiltan and Mordar mountains even in summers.
Quetta city was initially designed for 50,000 people by British rulers but after 1950, its population increased manifold and in later decades of the century following Soviet invasion in Afghanistan, Quetta saw a large influx of refugees. A rough estimate says currently Quetta city is being inhabited by 2.8 million people. There are more than 0.2 million vehicles and rickshaw plying on the narrow roads of the city, emitting carbon dioxide by burning fossil fuels.
Temperature records from 1931 to 2012 compiled by Metrological Department shows a huge difference in temperature in various months and years.
On Dec 14, 1970 highest maximum temperature had been recorded 25 C while on Dec 21, 1950 the temperature had dropped to minimum minus -18.3 C. Similarly, on Feb 26, 1953 the highest maximum temperature had been recorded 23.7 C while in Feb, 1, 1970 it had dropped to minimum minus -16.7 C. In 1998 Quetta witnessed highest maximum 42.0 C and minimum minus 0.3 C in May, 1989 and -6 in Sept 1962.
Director Regional Metrological Center Quetta, Saifullah Shami says although climatic change was contributing in temperature rise in Quetta but ever growing population, cutting of trees, emission of greenhouse gases and uncontrolled and unmanaged pollution are the immediate factors. "These have affected entire eco-system in Quetta which requires urgent attention of authorities concerned so as to stop this environmental degradation," he added.
Pakistan has the least contribution to global warming and ranked at 135th position in carbon dioxide emissions yet, it is faced with severe climate changes and has been ranked 3rd in the list of most vulnerable countries to climate change.
A recent report from World Bank warned Pakistan of the existence of five major risks related to climate change: rise in sea level, glacial retreats, floods, higher average temperature and higher frequency of droughts. Besides other impacts of increasing temperature, it has created dearth of water, dried crops and orchards located in the outskirts of the Quetta city and has also inflicted health issues.
"Quetta-city used to be free of mosquito in 1935 but with the passage of time, increase in population, lack of attention on the part of govt, the city has become a host of issues," says Dr Irfan Baig, an environmental expert.
He says Balochistan and some other parts of the country were badly hit by a long drought from 1997 to 2003. "The drought raised temperature and the impacts of climate change were noticed not only in Balochistan but also in Afghanistan, Seistan-Balochistan of Iran and Rajasthan of India in 2003," he added.
Baig says variation in weather has been observed not only in Quetta but also in other parts of Balochistan, including Nushki and Chagai districts where temperature has increased.
"After 2003 climate change rapidly showed its impacts that is evident from the fact that even orange and palm trees can now match with the climate of Quetta," he said, adding that it had been observed that now winter is falling late December as compared to past.
Baig regretted over government's lukewarm response towards this serious issue and devising no plan and formulating no policy to mitigate the impacts of climatic change that would cause serious repercussion in coming days.
http://www.nation.com.pk/national/16-Dec-2013/temperature-tale-of-quetta