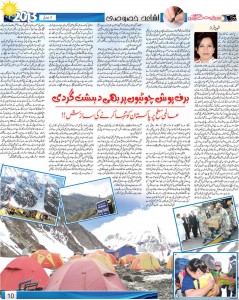 Nanga Parbat incident to harm tourism!
The objective behind this attack appeared to tarnish our image and discourage tourism in Pakistan.
President of the Sustainable Tourism Foundation Pakistan Aftab-ur-Rehman has said that killing of foreign climbers in a terror attack at Nanga Parbat base camp will have negative impact on the tourism in the country. Aftab-ur-Rehman urged the govt to take wide ranging policy measures to woo back the tourists, who had been scared away due to terrorist activities. He called for beefing up security measures at tourist resorts, particularly in upper Kyber Pakhtunkhwa and Gilgil Baltistan.
He said tourism could be a massive source of earning foreign exchange for the country in the presence of tourist attractions from stunning Himalayan peaks, beautiful lakes, scenic valleys and centuries-old civilization etc.
But unfortunately this potential has largely remained untapped due to the lethargic attitude of authorities concerned, he regretted.
He said the tourism was ignored by the previous government. Law and order situation badly hurt the tourism, but unnecessary restrictions on the travelling of foreign tourists to various tourist spots made the matters worse.
Aftab said now foreign tourists need an NOC for travelling to most of the places in Pakistan and it is almost impossible to get this NOC well on time due to lengthy and tedious procedure.
He said there is also need to pay serious attention to facilitate our own domestic tourists. There is a large number of domestic tourists interested in exploring their own homeland but the dilapidated tourism infrastructure and high cost of boarding and lodging, coupled with poor standard of services at tourist spots, discourage them to do so, he said.
He said the new government should give tourism its due status of a leading sector of economy and put the industry back on the path to progress.
He said terrorism could easily be defeated with promoting the tourism industry, which would create job and income generation opportunities for the insolvent people of far flung areas of Khyber Pakhtunkhwa and Gilgit Baltistan.
http://e.jang.com.pk/07-07-2013/karachi/mag5.asp