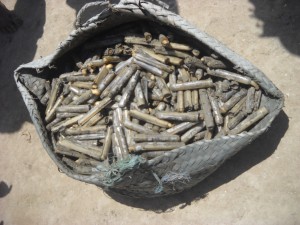 http://www.sindhexpress.com.pk/epaper/PoPupwindow.aspx?newsID=130020800&Issue=NP_HYD&Date=20130402
In the search of maroris
This story portrays the life of poverty stricken coastal children, who collect maroris (local name), an eatable item looks like a tinny bamboo covered with shelf, live inside narrow burrows in the sea mud. Catching crabs and collecting marori– a family of precious sea snails– from the mangroves plants and muddy area near the isolated beaches is attractive job for minor children of fishermen community. Mostly these children themselves are bread earners of their poor families.
These marine species provide better source of livelihood to a large number of children living at the isolated islands off the Karachi beaches.
Several children originally belong to coastal villages of Karachi, live with relatives at far off island villages and work as daily wager, collecting such items for middlemen, who supply the same to the local market. Mostly boys drop salt into the mouth of scattered burrows with small stick and marori comes out rapidly, which they collect.
These boys and girls travel long distance in the search of crabs and sometimes spend whole day to collect maroris from the far off beaches, because they have almost emptied the nearby beaches.
They said these unaware children do not know how they are destroying their own resources. Greedy traders offer sufficient amount to children, engaging them to collect everything that is available near beaches and their abodes. These children should be enrolled in schools to save their future, but the reason these children themselves narrate is that majority of them belongs to poor families and themselves are bread earners.
Some of the elders living at the islands said crabs and snails are sea creatures, to whom they never tried to destroy, calling it natural wealth. But now the poverty has compelled many people, who if not catch more fish, engage their children to collect maroris. He said at beaches like Karachi, there are no maroris visible. These are far off beaches near mangroves forests and muddy island zones.  According to the community elders snails keep the sea water clean.
Middlemen visiting there frequently buy such items, paying Rs25 per kg to children. But at the village jetties they resell the same item costly, at Rs125–175 per kg. Sharing their experience, elders say, there is a chain of this trade and marori is a valuable item, attracts foreign market.
There are some warehouses and small factories near coastal villages of Ibrahim Hydri and Rehri, in which women and children boil these sea species and get stuff, which after processing and packing is being exported to other countries.
Elder community people recalling the past blissful days say maroris were available at the all beaches for long but they never collected it. Now the poverty, declining fish catch and joblessness have forced the community youth to collect it for the sell.