Saleem Shaikh
Thomson Reuters Foundation – Thu, 22 Aug 2013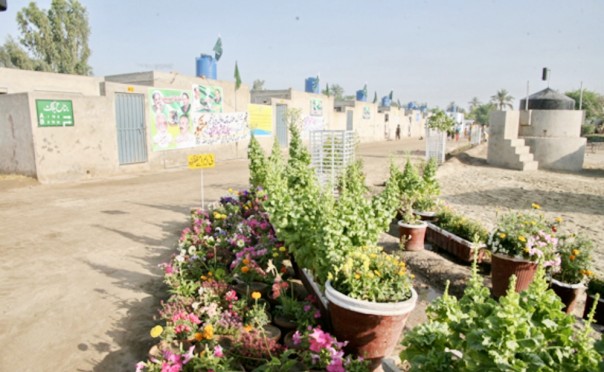 A model village after construction in flood-prone Dera Ghazi Khan district, Punjab province, Pakistan. PHOTO/Punjab Disaster Management Authority
DERA GHAZI KHAN, Pakistan (Thomson Reuters Foundation) – Ayesha Fatima, a 29-year-old widow with two small children, burst into tears of delight when she was handed the key and ownership papers for her new home, a two-room, single-storey, disaster-resilient brick building.
Her former home, a mud-brick house, was washed away by devastating floods in 2010, forcing the family to flee for their lives, abandoning everything they owned except two goats.
While living in a makeshift tent outside a nearby primary school, Fatima's husband died of pneumonia and she was reduced to begging to survive, she told Thomson Reuters Foundation in muted tones.
The village where Fatima now lives – 'Basti Hote Lashari' in Taunsa town in Dera Ghazi Khan district, 405 km (250 miles) from Pakistan's capital Islamabad – is one of 22 model villages built to replace homes washed away by the floods.
Constructed with private-sector funds and technical expertise, the houses are strong and designed to withstand earthquakes and extreme climate events, including floods, as part of a "climate-compatible development" initiative by the Punjab provincial government.
Climate-compatible development focuses on "triple win" strategies that limit greenhouse gas emissions, build resilience and promote development at the same time.
Parts of Punjab have been hit yet again by monsoon flooding in recent weeks, underlining the need for measures like these to protect people, property and crops from natural hazards.
When Fatima moved into her new home, in June 2011, her role as the family breadwinner was transformed by the gift of two buffalos.
"I earn Rs800 ($8) a day by selling nine litres of buffalo milk and this is enough to feed my two children," she said happily, while milking one of the animals. "My children have also resumed going to school in the model village."
Thousands of other poor families also lost their homes to the 2010 floods, the worst in Pakistan's history, which tore through Fatima's village early one morning after days of torrential rain.
She was woken by a huge uproar and the cries of villagers: "Wake up … wake up, people … Floodwater is coming!"
"When I came out of my room, the gushing floodwater was just minutes away from our home. Getting hold of my two children and two goats, I fled to the higher ground along with my 54-year-old husband. We left everything behind to the floods," she explained.
The family spent 45 days in a school building on higher ground. When she returned, she could see only mud bricks strewn around where her home had stood.
PRIVATE-SECTOR INVOLVEMENT
Some 1.9 million houses were damaged or destroyed by the 2010 monsoon floods, according to the National Disaster Management Authority. Around 2,000 people died and over 20 million were affected, more than one-tenth of the population, from the Himalayas to the Arabian Sea.
The World Bank calculated the economic damage at over $9 billion.
With financial support from the non-government and corporate sectors, the Punjab government has built 22 disaster-resilient showcase villages in seven of the severely affected districts, drawing on expertise from two private firms, National Engineering Services Pakistan and Associated Consulting Engineers.
The villages, costing nearly Rs1.35 billion, contain 1,885 single-storey homes, which have been handed over to people who lost their houses in the 2010 floods. The villages have schools, health centres and other community infrastructure, replacing what the floods destroyed.
"These will show how such villages can be better planned, built to higher standards and with improved community infrastructure and facilities. Other facilities are biogas plants, solar energy systems, livestock sheds, covered sewerage, brick-paved streets, parks, play areas, markets and community centres," said Mujahid Sherdil, director-general of the Punjab Provincial Disaster Management Authority (PDMA).
"The corporate sector played a pivotal part by extending support in both cash and in kind for the construction of disaster-resilient houses," he added.
Sherdil told Thomson Reuters Foundation from his office in Lahore, the provincial capital, that public relief operations after disasters were often delayed by lack of funds, but that businesses could play a bigger role by immediately making financial contributions to meet aid needs under their corporate social responsibility (CSR) programmes.
The private sector's role in post-disaster reconstruction in 2010 showed it can help society cope with disasters, as well as providing resources, expertise and essential services for rebuilding afterwards, he said.
CLIMATE-RESILIENT CONSTRUCTION
Dina Khan, manager of climate-compatible development projects in Pakistan for the Climate and Development Knowledge Network (CDKN), told Thomson Reuters Foundation the Punjab PDMA had asked her organisation to help it incorporate climate resiliency into its post-disaster reconstruction efforts.
CDKN in turn uses management and engineering consultancy Mott MacDonald to prepare guidelines on reconstruction in hazard-prone areas of the province, and to assess the climate compatibility of model villages being built.
Arif Hasan, an independent architect, said this kind of approach addresses the need to reduce greenhouse gas emissions, use fewer resources and put up buildings that can withstand weather-related disasters.
"There is an urgent need for implementation of such guidelines in highly disaster-prone Pakistan that will help the country adopt climate-resilient construction methods in disaster-prone areas," he added.
Ali Tauqeer Sheikh, CDKN's Asia director based in Islamabad, said Pakistan has inadequate guidelines for disaster risk reduction in the construction sector.
It is hoped the climate-compatible development initiative will pave the way for the country to adopt an effective national policy, and give the rural poor and local decision-makers the knowledge they need to reduce the impact of future disasters, he said.
"The Punjab government asked CDKN to help 'build back better' after the devastating floods in 2010," he said. "Not only is this a strategic project for Pakistan, it is also a test case for climate-compatible development that promises to offer lessons for the international community."
Saleem Shaikh and Sughra Tunio are climate change and development reporters based in Islamabad, Pakistan