KATHMANDU/ISLAMABAD: During extensive discussion among experts from 11 countries,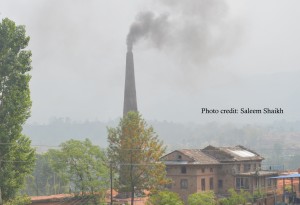 it was concluded that negative impact of traditional brick klins on health, agriculture and climate can be tackled with replacing these with climate-smart brick klins.
Participants at the "South-South Exchange Workshop on Brick Technology and Policy" identified viable solutions to achieve this goal.
The two-day event, which concluded here today was held in Kathamndu and organized by the International Centre for Integrated Mountain Development (ICIMOD).
Climate experts said modern brickmaking technologies that cause far less pollution than traditional brick kiln technologies are need of the our. But it is not possible to achieve without increased political recognition of the problem, particularly in the major brick making countries of Asia, Latin America, and Africa.
Participants also shed light on the importance of inter-ministerial coordination among ministries of housing, industry, health, agriculture and environment to achieve large-scale reductions at the national level as well as at regional scales.
Bricks are a primary construction material used in many regions, and brick production is known to be a highly polluting activity, resulting in emissions of short-lived climate pollutants (SLCPs), such as black carbon, along with a range of other pollutants.
The workshop was convened by the Climate and Clean Air Coalition to Reduce Short-Lived Climate Pollutants (CCAC) and jointly hosted by the National Institute of Ecology in Mexico and the International Centre for Integrated Mountain Development (ICIMOD) in Kathmandu.
In his opening address, Secretary Krishna Gyawali of the Ministry of Industry in Nepal highlighted the urgency of the problem and noted the brick sector consumes more than 50 percent of the total coal in Nepal. He also noted the importance of continued research on black carbon by ICIMOD and others in relation to the melting of the Himalayas and glaciers around the world.
"It is high time to accelerate mitigation of black carbon and other pollutants from key sources, such as brick kilns," he said.
The majority of brick kilns in operation are traditional kilns, also referred to as artisanal kilns. The primary fuels used to fire the bricks are coal, wood, local biomass and any available low-cost fuel or scavenged fuel, such as bunker fuel, waste oil, used tires, sawdust, plastics, battery cases and dung.
Yet, limited access to electricity makes it a challenge to modernise and mechanise the sector, experts grumbled at the workshop.
The CCAC will carry on the discussion and consider priorities for reducing SLCPs from brick production at its next meeting in July 2013.
The story published first in Lahore Times on May 11, 2013.
The weblink: http://www.lhrtimes.com/2013/05/11/call-for-climate-smart-brick-kiln-technology/