Bari Baloch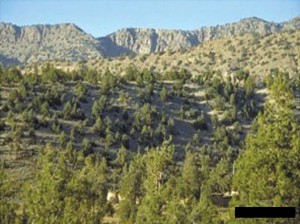 QUETTA-The mineral rich province of Balochistan not only covers 44 percent of entire Pakistan's land mass but has also a 780-km long coastal area, a 7000 year old civilization of Mehrgarh to its credit and is bestowed with unique juniper forests stretching on thousands of acres in Ziarat, Zarghoon and Harbohi areas of the province.
The invaluable juniper forests of Ziarat are as old as 5000 years and are counted the world's second largest and oldest forests only after the juniper forests of California. Sadly, increasing temperature, lukewarm response on the part of government in preserving ancient forests and incessant cutting of trees for fuel and other purposes have brought juniper forests of Zairat at the verge of alarming extinction. The juniper trees are facing a double count threat on the one hand from parasite infection and on the other hand by ruthless chopping off by timber mafia for the sake of a trivial amount.
Junipers are one of the slowest growing trees in the world and are therefore regarded as "living fossils". The junipers of Ziarat are the largest block in entire region but this all is changing very fast. Approximately 247,000 acres of juniper forest trees are found at an elevation ranging from 1,980 to 3,350 meters above sea-level. Along with other specialties, these trees divert rainwater into the ground and replenishing the underground water resources which irrigate the soil and also produce medical herbs such as Ephedra and Artemisia.
Although Ziarat valley is still striving hard to sustain its cool climate, serene environment, rich fruit orchards and forest yet a huge change is evident in its weather, its temperature, wideness and thickness of forest and ever-dropping water- level during the last three decades. "Ziarat used to be famous for its cool atmosphere and scenic views not only in Balochistan but also across the entire country which now sadly presents a drastically changed picture," says Muhammad Jaffar, a resident of district Ziarat. Quoting his forefathers, he says Ziarat and its surrounding areas used to receive heavy showers and snowfall with the advent of winter while the heavy snow on the peaks of mountains used to melt very slowly that could be seen even in the hottest months of June and July.
"Nowadays, soon after snowfall, the ice on the peaks of mountains starts melting and till March one would observe the mountains peaks without the traditional snow sheet," Mr. Jaffar said, adding that increasing temperature and deforestation were showing their negative aftermaths on the climate of the area. A deadly parasite infection named as Mistletoe is like a cancer which has ruined the juniper forests to a larger extent as when it infects any part of the tree, there will be no other option other than cutting down the whole tree or its affected branch. No adequate concentration is paid by the authorities concerned to control this parasite that has turned to be a juniper killer. Owing to infestation, the juniper trees get dry and their smaller branches break down.
Reportedly, this Mistletoe infestation was detected in 1970s by scientist working to investigate the reasons of Juniper death and later it was ascertained that 50 percent of juniper trees are infected in Ziarat. An official of forest department says that the parasite travel through wind from one affected trees to other healthy tree that ultimately leads to the cutting down of the trees. "Besides other reasons, the impact of climate change is also contributing a lot in deforestation not only in Balochistan but also in other parts of the country. Therefore, hardly a new juniper tree is seen in Ziarat," forest officer said.
Experts say if emergent steps were not taken on war-footings, the deadly parasite, illegal cutting of the trees and impact of climate change could not only deprive Balochistan from this natural treasure but also entire world.
Officials of Forest Wildlife Department say the forest and wildlife department will spend $ 2.3 million during a seven-year period that began in 2012 to protect the Ziarat juniper biosphere reserve, and a team of 80 workers in the forest to monitor and keep it away from being deforested though budget is not enough.
Experts say protecting juniper trees can boost the economy through tourism and they will not use the slow-growing juniper wood for fuel and the area must properly be facilitated with gas.
More and more wild plants are needed to be planted and they must be given protection until they developed into fully grown trees. UNESCO has declared Ziarat juniper forest a "biosphere reserve" Pakistan's second, and United Nations has added the forest to the world network of Biosphere reserve.
Balochistan government recently approved three projects to protect environment, forests and slow down the impact of climate change under which in coastal areas mangrove forests would be planted, desert trees would be grown in the desert areas of district Nushki, Kharan, Washuk and Chagai which could provide shelter to the local populace from sand storm and technical and professional capacity of officials and other people would be built to play their role in protecting extinct species, trees and wildlife. The government has also directed department concerned to take immediate and effective steps for protection of the forests in Balochistan wildlife and reducing the impact of climate change.
http://www.nation.com.pk/snippets/09-Dec-2013/world-s-second-largest-biosphere-reserve-at-risk